Anti-HIV-1 Activity of Ellagic acid Isolated from Terminalia paniculata
Keywords:
Anti-HIV, Terminalia paniculata, Antioxidant, Ellagic acid, HIV-1 Integrase, HIV-1 Protease
Abstract
Objective: The present investigation evaluates the potential Anti-HIV-1 and antioxidant activity of the methanol extract of the leaves of Terminalia paniculata. This search for inhibitors of Anti-HIV-1 Integrase and Protease from medicinal plants of Western Ghats, India led to the isolation of Ellagic acid from the methanol extract of T. paniculata leaves. Methodology: The in vitro antioxidant activity was determined by different standard methods such as 1,1-diphenyl-2-picryl hydrazyl radical (DPPH), metal chelation, superoxide radical scavenging and lipid peroxidation assays. The in vitro anti- HIV-1 enzyme inhibition assays were carried out by standard protocols using Multiplate integration assay. The structure of Ellagic acid was elucidated on the basis of NMR, LC-MS and FTIR studies. Results: Ellagic acid has shown excellent in vitro anti-HIV-1 activity in the enzyme inhibition assays carried out with an IC50 value of 8.7 μm and 70.4 μm against HIV-1 Integrase and HIV-1 Protease enzymes respectively. For the antioxidant assays carried out Ellagic acid has shown scavenging potential of 92.2 ± 0.03% of DPPH radical, 88.1 ± 0.41% chelation of metal ions, 68.02 ± 0.12% scavenging of superoxide anion radical and 85.52 ± 0.06% inhibition of lipid peroxidation all at a concentration of 40 ppm. Conclusion: The isolated bioactive molecule, Ellagic acid has shown highly efficient in vitro anti-HIV and antioxidant activity. The present study happens to be the first report on the HIV-1 inhibition ability of T. paniculata.
Downloads
Download data is not yet available.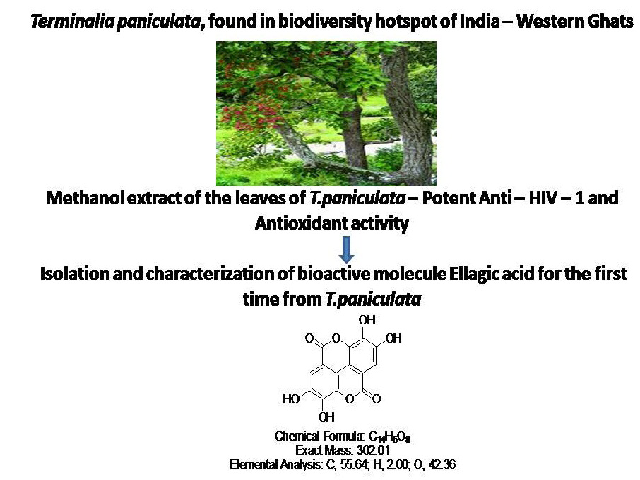 Downloads
CITATION
DOI: 10.5530/fra.2016.1.12
How to Cite
Narayan L, C. ., & Rai V, R. . (2015). Anti-HIV-1 Activity of Ellagic acid Isolated from Terminalia paniculata. Free Radicals and Antioxidants, 6(1), 101–108. https://doi.org/10.5530/fra.2016.1.12