Free Radicals and Tissue Damage: Role of Antioxidants
Keywords:
Reactive oxygen species, Oxidative stress, Nitrosative stress, Tissue damage, Antioxidants
Abstract
Cells generate energy by reducing molecular oxygen to water. During the process, small amounts of partially reduced reactive oxygen forms are produced as unavoidable byproducts which are referred to as Reactive Oxygen Species. An imbalance between free radical-generating and radical scavenging systems results in Oxidative Stress. Reactive nitrogen species and other non reactive derivatives are also involved. These processes lead to tissue damage and contribute to the pathogenesis of many disorders like hypertension, cancer, diabetes, neurodegenerative disorders and others. The human body has several mechanisms to counter the effects of these reactive species by the production of antioxidant enzymes like glutathione and catalase. Antioxidants can also be taken exogenously through the diet. This article provides an overview of the different free radicals known, the mechanism by which they cause tissue damage and the protective role played by different antioxidants.
Downloads
Download data is not yet available.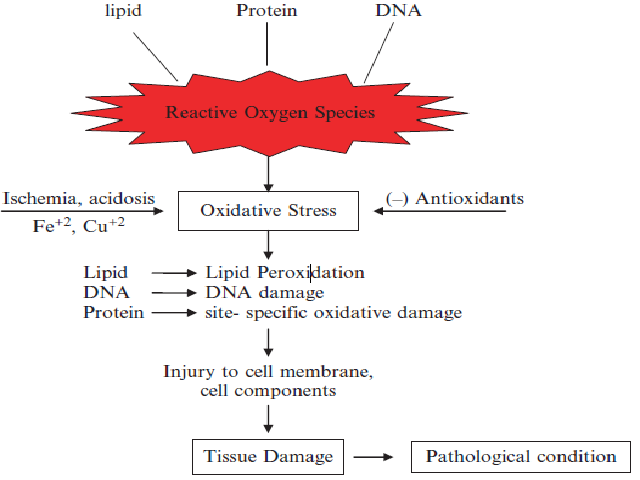 Downloads
How to Cite
Rao P, S. (2020). Free Radicals and Tissue Damage: Role of Antioxidants. Free Radicals and Antioxidants, 1(4), 02–07. https://doi.org/10.5530/ax.2011.4.2